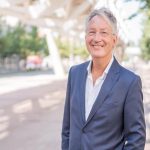 Cor Rademaker
Broker, MBA, Masters of Urban Planning and Social Geography
Meet the Dutch Guy
Cor Rademaker hales from The Hague, The Netherlands. He's the sweet Dutch guy on the team. Cor brings quite a suite of knowledge and skills to his real estate practice. Cor spent most of his career working in the area of sustainable urban design and development. He founded a consulting firm in The Netherlands focused on strategies for sustainable cities. They primarily helped developers, private companies and cities around the world evaluate, from the perspective of the end-user, the highest and best use of commercial and residential developments.
Cor's business practice grew into a focus and expertise in sustainable buildings, green energy and smart cities. In addition to having his consulting company, Cor worked as an energy expert at the Technical University Delft and taught smart cities at the University of North Carolina Chapel Hill.
Cor has many varied skills and an eye for art, color and design. He also studied at the Royal Art Academy in the Netherlands, yes, the country of Rembrandt, Vermeer, Van Gogh, Mondrian and many more. He developed know-how combining technical and constructional features, design and style.
Jodi Bakst, Cor's wife and Broker Owner of Real Estate Experts, asked Cor to join the company because of his knowledge of sustainable buildings and all things green. This fits perfectly with Real Estate Experts' focus on high performance homes.
Cor brings a wealth of knowledge in technical building design, energy efficiency and environmental sustainability to his real estate practice. His career was focused on bringing the highest quality analysis to his clients. His focus on client care and customer service fits perfectly with Real Estate Experts' client focus.
He was a born and raised in Europe, Rotterdam to be exact. He speaks fluent Dutch and German and he has a strong command of French and Spanish and some Hebrew and Indonesian.
Cor strongly believes home should be a place to feel comfortable, happy and relaxed. Look up the word Gezellig, it is a very special Dutch word that kind of translates to warm and cozy. It's more than that though, its healthy!
In Cor's off time, he can be spotted walking in nature, taking photographs, and riding his bicycle.