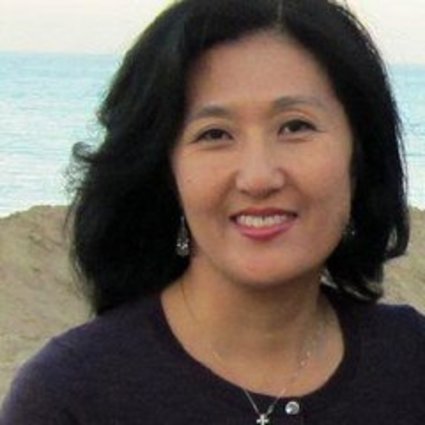 Karyn Cho
Broker, REALTOR
Get to Know Karyn Cho
Our Silicon Valley Expat
Karyn Cho came to Real Estate Experts by way of Illinois and California. First, she received her Bachelor's degree in Marketing from the University of Illinois at Urbana-Champaign.
For several years, she managed a retail establishment in the Chicago metropolitan area then gained hands-on experience in marketing for a small business.
Life took Karyn to Northern California and world-renowned Silicon Valley. But in 2004, she left "The Valley" for "the hill" – Chapel Hill, that is – where she discovered her passion for the real estate industry.
She was so passionate about it that she became a full-fledged Realtor® in 2007.
Today, nothing brings Karyn Cho more professional joy than guiding her clients through a seamless, hassle-free home buying or selling experience.
To achieve that joy,
she carefully tailors real estate transactions to the unique needs of each unique client. She also keeps herself apprised of the ever-evolving technology around the real estate market, which is indispensable in providing the kind of excellent
service she's known for.
Yet as much as Karyn loves real estate, her greatest blessings, she says, are her husband and three sons.
Karyn is Korean-American, bilingual, and an active member of Newhope Church in Durham.
Testimonials
"
Karen was an outstanding realtor and exceeded our expectations in all matters.
Karen was a dedicated advocate for us.
We would highly recommend Karen. Her knowledge, advocacy, attention to detail, ability to understand our needs, and dedication to us as clients far surpassed any realtor we've known.
"
8th Feb 2019
"
Karyn was so helpful during our purchase of our first home. She was knowledgeable of Durham, which helped us since we were new to the area. She was attentive to what we were looking for. She was so patient with us while we looked for our perfect home.
"
19th Dec 2018
"
Karyn Cho made us feel like her only client. It was real white glove service. She was accessible and responsive, energetic and enthusiastic.
Karyn made us feel that she took personal pride in understanding our needs and was willing to show us many properties as we familiarized ourselves with our new location. She guided us through the process in a new state. She was fun to work with and made visiting potential homes enjoyable.
She recognized our forever home before we did. She had listened to all the things we wanted and saw immediately that this house checked all our boxes.
"
13th Dec 2018
"
I have met Karyn Cho few years back, when I was looking for a rental. There is not much work for a realtor in the renting process, but she still helped by making me aware of a few flaws about the house and even negotiating for a better deal.
This year I decided to buy me a house, for the first time. So again, Karyn helped me a lot. She explained every step in buying process and meanings of terms. Then Karyn energetically arranged showings, I had some houses shown within hour after being put on the market. She explored houses with me, pointing at strengths or defects that I would not have noticed myself. All the time, she actively communicated with me, providing information, documents, etc.
In the end, she prepared paperwork and made all appointments necessary to close the deal as soon as possible.
Finally, on top of her professional qualities Karyn is a nice and cheerful person, easy to reach out and to talk to.
"
30th Jul 2018
"
We had worked with Karyn when we bought our house. When we bought our property, we lived out of state and working with Karyn made everything go so much more smoothly. Knowing that we would be moving out of state, we wanted to work with someone that we could trust, someone that we knew would assist us with every aspect of the selling process, and someone that we knew worked hard and really knows what she is doing. We trust Karyn - her knowledge and expertise.
When we decided to move again, we knew that the only person we wanted to work with was Karyn. Karyn walked us through every step of the process. We knew that she would explain anything we didn't understand. I like that she educated us and always communicated the plan of what needed to be done next, either by her or by us.
Our only regret is that Karyn has not moved to Montana with us because I don't know if we will ever find another Real Estate Professional that we trust as much or enjoy working with as much as Karyn!
"
25th Feb 2018
"
Karyn,
I am very grateful to have a person like in my life. You really amazing !
"
21st Feb 2018
"
Perfect real estate agent. She encouraged me when needed, showed me properties but did not push them on me, and she was always easily accessible.
"
6th Feb 2017
"
It was a pleasure working with Karyn Cho. She's knowledgeable, dependable, and candid, and she's a gracious but fierce negotiator! I give her my highest recommendation.
"
9th Jan 2017
"
I had to leave to go on an International business trip while my house was under renovations ( due to previous renovation delays).prior to listing. She oversaw the completion of the renovations, had the house cleaned, staged and listed the property while I was gone!
When I recieved an offer with a 30-day closing date, Karyn went to work and found me my dream rental to move into. She took care of everything! While I was receiving the keys to my new place, Karyn attended the closing of my house sale on my behalf. She is absolutely the best!!!
"
16th Dec 2016
"
We have had several real estate agents in different parts of the country, and Karyn was the best all around package of knowledge, professionalism, patience, and generosity with her time. We could not recommend her more highly.
"
23rd Aug 2016