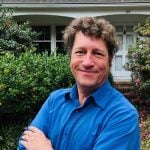 Matthew "Mouse" Mock
Broker and the Second Most Interesting Man Around
A little about Matthew "Mouse" Mock
Matthew Mock was "bred" up north but "buttered" down south. He's lived in Chapel Hill since 1977 and enjoyed a high-octane life the entire time.
To many of his friends, Matthew is known simply as "Mouse." (We don't know why and we don't ask.)
Prior to working in real estate, Mouse owned the oldest bar in Chapel Hill for more than 12 years, produced public access television, and coached youth soccer. He studied photography, loves books, and has been part of the Chapel Hill music scene for many years.
Mouse had been bitten by the real estate bug long before he knew it. For years he was busy purchasing, renovating, and managing several investment properties, and gaining a head-full of knowledge along the way. He finally recognized his passion for the real estate industry in 2018. That April, he got his Real Estate license. Thus began his career as a professional Property Manager.
Mouse's past endeavors set him up perfectly for juggling all kinds of tasks and details – the definition of rental property management. Always positive, he remains calm under pressure and eager to help you with all of your rental property management needs.