Learn more about Mebane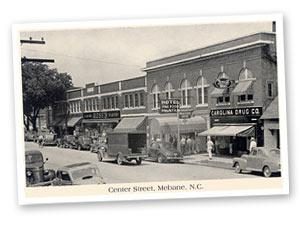 The City of Mebane traces its beginnings to the early 19th century when a post office was established in 1809. The town was named for Brigadier General Alexander Mebane of the North Carolina Militia and a member of Congress in the 1790's. In 1855, the railroad arrived and Mebane was incorporated in 1881 as the town of Mebanesville. The name was officially changed to Mebane in 1883. The charter was amended to the City of Mebane in February of 1987.
Also in 1881, Mebane's industrial growth began with establishment of the former White Furniture Company, followed by the Mebane Bedding Company in 1904 and the Ridgeville Telephone Company (now MebTel Communications) in 1907.
The industrial growth of Mebane began in 1881 with the organization of the White Furniture Company. Other industrial firms still in operation in Mebane today are devoted to the making of bed springs and mattresses, full fashioned and half hose, and children's wearing apparel. The local tobacco market has been recognized for its importance to the area for approximately 25 years.
The White Furniture building has been repurposed as downtown luxury loft apartments. Mebane Bedding is now Kingsdown Mattress Company. New industries include Morinaga Foods which produces candies and the distribution centers for Walmart, Aldi and Sheetz retail stores.
Mebane is within 20 miles (32 km) of several notable universities, including Duke University, UNC Chapel Hill, and Elon University. North Carolina State University & Saint Augustine's University are just over 40 miles (64 km) away in Raleigh.
Alamance Community College is a two-year college in Graham, 6 miles (10 km) west of Mebane.
Clay Street is the home of many antique and gift shops, coffee shops, and the best restaurants in Alamance County. During the summer months, the city will host several free events including the annual Dogwood Festival, monthly outdoor concerts, art festivals and, of course, a July 4th and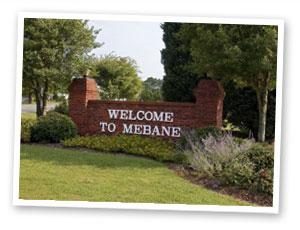 Featured Listings
Check out the hottest new listings Mebane has to offer!
Want the full market report for Mebane?
We want to ensure that you have all the information needed to make the best decisions when it comes to your home goals. When you enter your info below you will get instant access to the area's latest market report, complete with sales and demographic trends.
Schools In The Area
Browse local schools, complete with ratings and contact info.
Best Local Businesses
Browse through the top rated businesses that Mebane has to offer!
Local News & Advice
Read helpful resources and articles related to the area.