Learn more about Durham
Durham, North Carolina, home of the Bulls at Durham Athletic Park, lies in North Carolina's central piedmont 140 miles from the Appalachians and 130 miles from the coast, and just over 20 miles from the Virginia border. The New York Times lists Durham as a Top Place to Go in 2011. The moderate climate allows for outdoor activities like golf, tennis, and hiking almost year-round in the nearly thirty square mile, single-city county. Forbes has rated Durham Number One in Jobs for Mid-Sized Cities, and the city is rated as the #1 Best Place to Retire by Black Enterprise and Money Magazine. The city had an early influence in the civil rights movement and is cited nationally for its role in the sit-in movements of the 1950's-60's. Don't miss out on the many things to do in the revitilized downtown Durham.
Shopping & Dining in Durham NC
Nearly 500 restaurants can be found in Durham; whether you want good ol' North Carolina barbecue, grilled steaks, and fresh seafood, or prefer Caribbean, Ethiopian, or Middle Eastern, you'll never run out of choices in Durham. Near the restaurant-rich Old West Durham/9th Street district, you can enjoy innovative, locally-sourced fare at Watts Grocery, a restaurant in a converted grocery store building. On a visit to Brightleaf Square, a shopping center in an historic former tobacco warehouse, you can pick up a South American pastry at Amelia Café, sit down to Brazilian steak at Chamas Churrascaria, or simply enjoy a lager at the Down Under Pub.
Shopping at Brightleaf Square is sure to turn up one-of-a-kind finds as you browse rare books, elegant antiques, and fabulous clothing boutiques. Need more unique shopping venues? Spend a Saturday morning in downtown Durham visiting the Durham Craft Market, located just across the street from the Durham Farmer's Market where you will discover local and artisan selections to tickle your fancy and tempt your taste buds.
For familiar favorites, the North Pointe Shopping Center features Costco and Home Depot, and The Streets at SouthPoint is a super-regional mall with Nordstrom, Macy's, JC Penney and Sears, plus dozens of smaller retailers.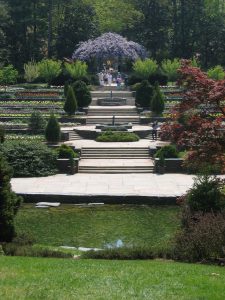 Parks & Recreation in Durham NC
Durham is home to dozens of city parks. The West Point on the Eno sits alongside the Eno River. This park features hiking trails and includes a reconstructed 1778 working grist mill, the historic McCown-Mangum House, and the Hugh Mangum Museum of Photography. Rolling View State Recreation Area at Falls Lake offers opportunities for bird-watching, boating, swimming, water skiing, windsurfing, and even camping. For budding scientists, you'll want to be sure to visit the Museum of Life and Science. Here you'll find a state-of-the-art, indoor and outdoor science-technology center, ranked as one of the top family-friendly museums in the Southeast. Stop by the Magic Wings Butterfly House or explore the cretaceous period on the Dinosaur Trail. In the heart of Durham you'll discover Duke Forest: a 7,060-acre teaching and research forest of Duke University where you can enjoy hiking, biking, horseback riding, fishing, and picnicking.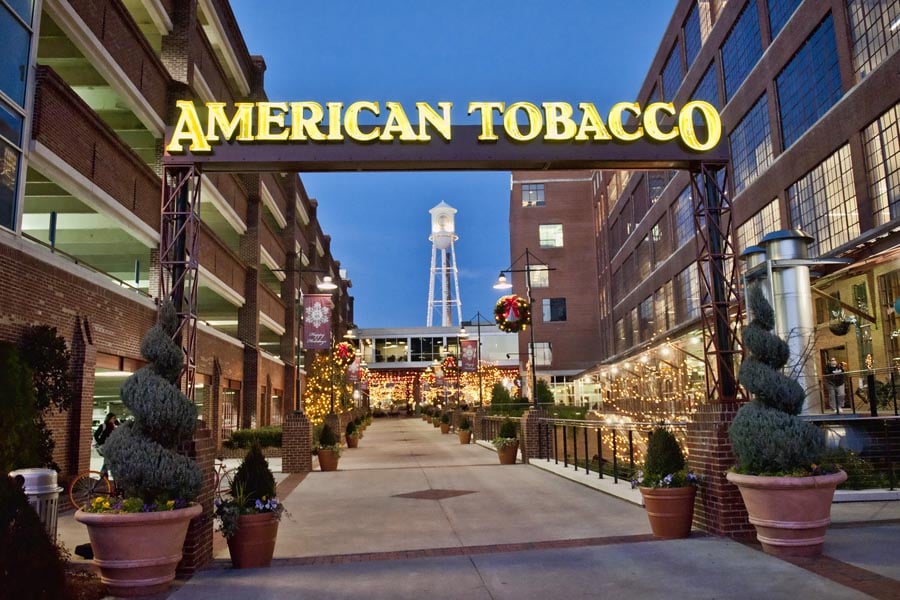 Living in Durham NC
Durham is a vibrant, diverse community surrounding the Research Triangle Park, home to nearly 140 major research and development companies, including Bayer, GlaxoSmithKline, IBM, Underwriters Laboratories, and agencies such as the EPA, which employ more than 45,000 people. It comes as no surprise that the city has placed at the top of the nation for economic strength for twenty-five years. Dozens of neighborhoods assure you of finding that perfect home whether you are seeking the seclusion of a wooded acre or the easy maintenance of a small yard. Prices in Durham neighborhoods range from the 150's to the 700's with the median sale price still well under $200,000.
The city is home to more than 47 annual festivals including the world-renowned American Dance Festival; Bimbe, an African-American music and arts festival; the Annual Jewish Art Show Exhibition; the Troika Music Festival, and many more. For Broadway hits and internationally acclaimed performers, be sure to check out the Durham Performing Arts Center.
Schools, Health & Transportation in Durham NC
Durham has several world-class medical facilities including Duke University Medical Center, Lenox Baker Children's Hospital and Durham VA Medical Center. Durham is known as the City of Medicine, USA, owing to its more than 300 medical and health-related companies and medical practices.
Durham Area Transit provides free transfers, and the average cost of riding a City bus is $1.00. (The bus is free for youth 12 & under and for seniors.) In addition the Bull City connector is a free bus serving downtown Durham. Nearby, just 12.5 miles from downtown Durham, you can access the RDU International Airport.
Durham Public Schools provides favorable student-teacher ratios in the essential elementary years, and the district includes four schools in America's top 1300 high schools; students typically outscore peers in North Carolina on the SAT. There are numerous private school opportunities for faith-based education as well as a private special education school.
If you are thinking about buying or selling a home, give us a call at
(919) 697-5014 or send us an email to explore your options and to find out when is the best time for you to make a move.
Search Homes For Sale in Durham NC
Featured Listings
Check out the hottest new listings Durham has to offer!
Want the full market report for Durham?
We want to ensure that you have all the information needed to make the best decisions when it comes to your home goals. When you enter your info below you will get instant access to the area's latest market report, complete with sales and demographic trends.
Schools In The Area
Browse local schools, complete with ratings and contact info.
Best Local Businesses
Browse through the top rated businesses that Durham has to offer!
Local News & Advice
Read helpful resources and articles related to the area.