Area Highlights
A quick view of the most influential metrics in Carrboro.
Learn more about Carrboro
Carrboro, North Carolina is a very cool town. In fact, it has been referred to as the "Paris of the Piedmont." It is known for its walkability and its great restaurants, art galleries, farmers market, Weaver Street Market and more.
With a population of just under 20,000, Carrboro is the kind of town where you can still find stores devoted to used books and vinyl records, an old-fashioned meat counter and a fish vendor who brings fresh fish in from the coast. In spite of its small size, opportunities for fun abound in Carrboro. Homebuyers are sure to appreciate the small-town feel, but can also enjoy the big-city opportunities of nearby Chapel Hill and Durham. Among the many one-of-a-kind properties in Carrboro, you can even find a one hundred-year-old mill house to call your own.
The Carrboro Merchants Association launched an excellent web site highlighting all that Carrboro has to offer, including awonderful map of the town and information about local restaurants and stores as well as upcoming events. This is an excellent resource for local information.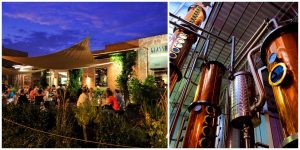 Dining and Shopping
Whether you're a foodie, a "locavore", or prefer good home cooking, you'll love Carrboro's eclectic food scene. On weekend mornings, Elmo's Diner has a line so long they've been known to pass out free coffee. Tyler's Restaurant, owned by former NYC Ballet dancer Tyler Huntington, has a large menu that mixes American, European and bistro food. You can find great authentic Chinese, sushi, and Mexican as well, all within Carrboro's less-than-five-square-miles.
On Saturday mornings and Wednesday evenings, you won't want to miss the amazing Farmers Market.A one-time cotton mill in downtown Carrboro has been converted into Carr Mill Mall. Here, you will find art galleries and shops featuring unique, high-quality merchandise. At the North Carolina Crafts Gallery, you can browse pottery, blown glass, metalwork, jewelry, toys, folk art, fiber arts, and garden sculpture created by over 500 NC artists. And nearby Durham or Chapel Hill abound in familiar big box retailers of every stripe.
Parks and Recreation
Carrboro has 10 parks, from large community parks to small neighborhood parks and play areas. Henry Anderson Community Park is home to lighted baseball fields, basketball courts, and tennis courts. Carrboro hosts an Annual Kite Fly and a Fishing Rodeo—free hot dogs included! There's also an Annual Community Dinner, Fourth of July Celebration, and Halloween Carnival. For fun on a larger scale, visit the nearby Durham Athletic Center, home of the Durham Bulls, or attend a world-class live performance at the Durham Performing Arts Center.
Living
Carrboro's Weavers Street Market is a gathering place for events and has become known as the town's "front yard." On Thursday evenings and Sunday mornings you will find free music events from spring to fall on the lawn just beside the market. There are even picnic tables for those who want a little more comfort. Carrboro, along with nearby Chapel Hill, presents 2nd Friday Art Walks, a monthly event showcasing art galleries and exhibits.
On Saturdays and Wednesdays, join locals and visitors from afar at the Carrboro Farmers' Market by Town Hall. Nearly a hundred vendors gather to sell their own seasonal produce, meats, cakes, plants, cheeses and hand-made craft items. The Market is hailed as one of the top ten Markets in the nation. Truly a remarkable small town, Carrboro also hosts a Film Festival, a Music Festival and a Poets Festival Weekend each year.
Schools, Transport, and Hospitals
The Chapel Hill-Carrboro Public Schools consistently rank as number one in North Carolina in terms of graduation rate, test scores, and percentage of college-bound seniors. Nearby Chapel Hill offers private school opportunities for grades K-8.
The Carrboro/Chapel Hill city buses are free to ride. Thanks to the mild climate, bicycle paths are often used as well. Nearby RDU International Airport provides flights to just about anywhere in the world.
Carrboro's neighbor, Durham is known as the "City of Medicine, USA", with over 300 medical and health-related companies and medical practices. Nationally acclaimed hospitals include Duke Medical Center and Lenox Baker Children's Hospital.
If you are thinking about buying or selling a home, give us a call at (919) 697-5014 or send us an email to explore your options and to find out when is the best time for you to make a move.
Search Homes For Sale in Carrboro
Properties in Carrboro
View our selection of available properties in the Carrboro area.
Inside Carrboro
Check out the latest demographic information available for Carrboro.
Overall Cost
VS National AVG
Housing Cost
VS National AVG
Entertainment Cost
VS National AVG
Utilities Cost
VS NAtional AVG
Crime Rate
VS National AVG
Carrboro Schools
Learn more about schools near Carrboro complete with ratings and contact information.
The Best in Carrboro
Browse through the top rated businesses in the most popular categories Carrboro has to offer.
Dine
Drink
Shop
Perk
Sweat
Groom
Wag