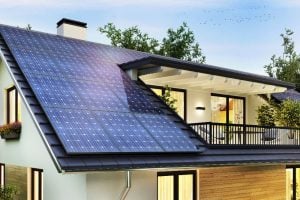 How Do You Find A Green Home?
Are you looking to buy a green home?  What does "green home" mean to you?  In the building world, there are actually many shades of green.  When looking for a green home, it will be helpful to understand the different shades of green and where and how you can find these homes in The Triangle.
Understanding Green, High Performance, Homes?
Is a home green if it has Energy Star appliances and LED lights or solar panels?  Or, is a home green if it has been third-party verified and proven to meet a range of national or international green building standards?  There is a long list of green features that we find in homes today and a short list of programs where homes have been evaluated and tested to ensure they meet certain standards.  The recognized certification programs are:  The National Green Building Standards (NGBS), Leadership in Energy and Efficient Design (LEED), ecoSelect, and Energy Star.  To be considered truly "green" the house should be third party verified and found to meet at least one of these standards.
Compared to a normal code-built home, green homes are designed and constructed to be more durable and require less maintenance, have lower monthly operating costs, have better indoor air quality and overall are more environmentally friendly.  From an energy efficiency standpoint, a green home should be at least 30% more energy efficient.
Green Features
There are many things that we can do to our homes to make them more energy efficient and/or more environmentally sound.  Many homeowners are updating homes to make them greener and builders are incorporating some of these features into new construction.
Examples of green features are:
Active solar design
Energy Star appliances
EPA WaterSense plumbing fixtures
Electric car charging station
Fresh air ventilation
Geo thermal HVAC system
High efficiency toilets
Insulated basement walls
LED lighting
Locally sourced materials
Low VOC paints/sealants
On demand hot water heater
Passive solar design
Programmable thermostats
Solar panels
Radiant barrier roof deck
Rainwater collection
Sealed attic
Sealed combustion FP
Sealed crawl space
Solar active heating
Solar hot water
Solar passive heating
Drought resistant landscaping
How Do You Know That A Home Is Truly Green?
Green Certification Programs
Having some green features in a home does not make the home itself green.  In fact, the word green has become so over used that the Durham Chapel Hill Home Builders Association has renamed its Green Building Council the High Performance Building Council.
There are four different programs that builders can choose from to get different levels of green certification.  These programs are:
The National Green Building Standard (NGBS)
Leadership in Energy and Efficient Design (LEED)
ecoSelect
Energy Star
Each of these programs has different requirements and features.  What is similar across these programs is the requirement for third party verification to become certified.

The National Green Building Standard is the only green rating system for homes and apartments developed by the American National Standards Institute (ANSI).  To achieve this certification, third party verifiers ensure that the following six components are in place at every site and for each home.
Site design, lot preparation and development
Resource efficiency
Energy efficiency
Water efficiency
Indoor air quality
Operation, maintenance & home owner education
The NGBS certification can be achieved at the Bronze, Silver, Gold and Emerald levels.
 LEED is an internationally recognized certification program that requires third party verification for buildings or neighborhoods.  While LEED can be applied to homes, it is more often applied to commercial buildings.  LEED has three certification levels: Silver, Gold and Platinum.
Energy Star is a series of checklists and inspections, testing and verifications developed by the U.S. Environmental Protection Agency (EPA).  Homes with the energy star label deliver better quality, comfort and durability compared to a typical, code-built, home.
ecoSelect is a national program whereby the standards can be measured to show improved energy efficiency.  The ecoSelect program provides a basis for reducing a home's energy use while incorporating indoor air quality and water efficiency requirements.
If you are interested in green or energy efficient homes, you have probably heard of a HERS Index or score.  But, what is the HERS index exactly?
The HERS Index (Home Energy Rating System) is the Nationally recognized system for showing a home's energy performance.  The third-party certification programs listed above look beyond energy efficiency while the HERS Index is solely focused on being able to compare the energy efficiency of one home to another.  The rating system is based on a rigorous inspection and testing by a certified home energy rater.  Having a HERS Score for a green home does help you to put its energy efficiency in context.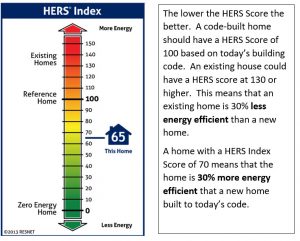 What is a Net Zero Home?
Today, there is a movement to achieve a HERS Index Score of 0 which means the home uses no net energy.  A home with a HERS Index Score of 0 is called a Net Zero Home or a Net Zero Energy Home.  To achieve net zero, a home must produce as much energy as it uses and it does this by producing energy with solar or wind.  In North Carolina, we are seeing net zero homes with active solar panels and battery back-up systems.
To be net zero, this does involve the energy company.  Some utility companies allow what is called Net Metering which means the energy created by the home can be stored by the grid for use by the home during times of peak energy use.
As stated by the BPC Green Builders, "When the same amount of clean energy is put into the grid as the home uses from the grid, the HERS rating is 0.  Net Zero Energy homes also may be net negative, i.e., have a -0 HERs rating.  This means the home actually produce more energy than they use.
To learn about the Benefits of Net Zero Energy Homes, see a related post on Real Estate Expert's Array web site.
Real Estate Experts is developing North Carolina's first 100% Net Zero Energy Neighborhood.  Array is located on Orange Grove Road 10 minutes west of Chapel Hill, North Carolina.  For detailed information about Array, visit the Array web site.
If you are looking to buy a green home or you want to build a green, high performance home, contact us at Real Estate Experts.  We are very knowledgeable about green, high performance homes.  We know the neighborhoods where you can find these homes and we know the high performance builders in our market.