The rumors are true: Chapel Hill will host the first Food Truck Rodeo in city history. The Food Truck Rodeo is on the schedule for Sunday, March 26, from noon until 5 PM hosted on Rosemary Street. Not familiar with Chapel Hill? Rosemary Street is hugged between Henderson and North Columbia Streets.
Chapel Hill Parks and Recreation in collaboration with the Downtown Partnership and the Raleigh Durham Mobile Food Association are excited to host this event. We are too! Their first ever food truck rodeo will feature 13 of the most popular food trucks in the Triangle area.
The participating food trucks:
Cousin's Maine Lobster

Try an authentic taste of Maine brought to you by Cousins Jim and Sabin.

Tacotopia

Bandido's Mexican knows what they're doing. Bandidio's, off East Franklin Street in Chapel Hill, has won competitions for their incredible food. Come try their prize winning salsa.

Pie Pushers

What more could you want: incredible pizza, or a roving truck that carries incredible pizza? Pie Pushers offers pizza by the slice or pies whole.

Chirba Chirba Dumplings

These dumplings are widely renowned for the flavorful punch they deliver time and time again. You'll have to taste their unique pineapple curry sauce.

Hibachi Xpress

Japanese Hibachi almost always yields great recipes, but Hibachi Xpress stands in a class all its own. With home made yum-yum sauce and a secret teryaki recipe, you couldn't go wrong trying Hibachi Xpress.

Baguettaboutit

Talk about a North Carolina necessity. Baguettaboutit features NC-made sausage and home-made sauces served snug in a French baguette.

Gussys

Want to try Greek food influenced by the Chef's time in Greece? Look no further. Gussy's Greek Street Food will be at the Rodeo on Rosemary. The home-made tzaziki sauce will be the best you'll taste in the Triangle.

JAM Soft Serve Ice Cream

Get your ice cream fix here. Jam Soft Serve has lots of options both for parents and kids. Their chocolate malted milkshakes are uncomparable.

CockaDoodleMoo

Southern, sassy, and full of local history, CockaDoodleMoo is your one-stop shop for all things barbecue. The malt vinegar fresh pork rinds are a definite must-try on their menu.

Sweet Traditions

If you like Gigi's Cupcakes, you'll love Sweet Traditions. Their cupcakes are mouthwateringly delicious. Imagine anything you'd like for dessert, and Sweet Traditions creates a cupcake for it. Banana pudding, chai tea, and Kentucky bourbon are just some of their incredible flavors.

Only Burger

Try one of Only Burger's all-American burgers. Their Famous Green Fried Tomato Burger is slathered in pimento cheese and topped with a grilled egg. Budget friendly and delicious, Only Burger will satisfy the whole family.

Morfa Empanadas

Argentinian food is under represented everywhere, so let Morfa Empanadas give you the best first impression.

Caffe Belleza

Is there anything better than a mobile coffee bar? Their Southern Charm Latte is delicious with a hint of spicy undertones. For every Southern Charm Latte bought, Caffe Belleza will donate $1.00 to the American Civil Liberties Union.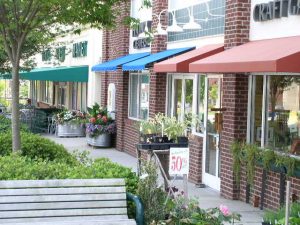 After you've grabbed your array of food, head to the top of the Wallace Parking deck. There, you can eat and enjoy beautiful views of the skyline of downtown Chapel Hill.
Bring the whole family to enjoy Chapel Hill's first food truck rodeo. There will be games for the kids on The Plaza, and a DJ playing some local favorites. Free parking will be available in downtown Chapel Hill on Sundays, but there will also be special event parking at the Wallace Parking deck.
Consider donating to the food drive, hosted on site by the Feed Hearts Fill Plates organization. Bring a few food items with you to donate to
local refugees. Any donations will end up on the tables of local families and refugees by the Refugee Community Partnership. Here are some foods they're looking for: pita bread, pasta, rice, dried chick peas, lentils, dried fava beans, olive oil, and ghee.
If you are interested in learning about the neighborhoods surrounding downtown Chapel Hill and around Rosemary Street as well as  other properties in the greater Triangle area, visit us online.  There's no shortage of fun, family-
friendly events in the area. Call us today at 919-813-6449 or e-mail us at [email protected] for additional information.