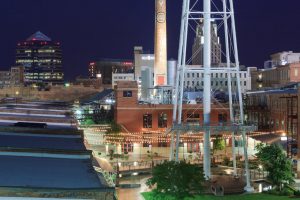 U.S. News and World Report has named Durham as the fourth best place to live in America, with an overall score of 7.5 out of 10. U.S. News analyzed 100 cities in the United States to find the best places to live based on quality of life, the job market, the value of living there, and people's desire to live there.
Durham boasts a diverse population, with an average age of roughly 32 years. The availability of good jobs and excellent schools makes Durham a very desirable place to put down roots and start a family. More than 27 percent of households include children under the age of 18.
The cost of living in Durham is slightly below the national average, although home prices have risen over the past few years. That being said, low property taxes make home ownership easier than in other major cities. Durham offers a better value than similarly sized cities when you compare housing costs to median household income. Housing costs this year in Durham average $215,730; while housing costs this year nationwide average $218,867 .
Durham is home to the prestigious Duke University and its nationally acclaimed men's basketball team, The Blue Devils, who have won four NCAA championships in addition to having a hall of fame coach in Mike Krzyzewski. Speaking of athletics, Durham is the nationally acclaimed home of the Durham Bulls Triple-A baseball club, made famous by the 1988 movie Bull Durham.
For those who enjoy the outdoors, Durham offers the Eno River park, which is only 10 miles from Downtown Durham. The park encompasses all the natural beauty of the region and includes campsites perfect for canoeing or fishing. Other venues include West Point on the Eno and Little River Regional Park.
If entertainment is your thing, Durham offers a smorgasbord of options. American Tobacco, Durham's downtown entertainment district, includes unique restaurants, a documentary theater, a barber shop, a basketball court, plenty of open green common space. American

Tobacco also puts on many of their own events, like art shows, pop-up shops, and free concerts in the summer. Across the street is DPAC, Durham Performing Arts Center, which hosts more than 180 performances a year, including touring Broadway productions, high-profile concert and comedy events, family shows, and the heralded American Dance Festival.
You will also find an abundance of shopping venues in Durham, from the Streets at Southpoint, a super-regional mall named by USA Today as one of the nation's "10 great places to spend it all in one place," to the family owned Northgate, a regional mall whose unique shops have made it a Durham landmark.
From the friendly, well-educated residents to the job opportunities to the cost of living, Durham is indeed one of the best places to live in America!