The Triangle is bursting with activities, festivals, educational opportunities, and events. Living in the Triangle means having easy access to cultural facilities like the Durham Performing Arts Center, the North Carolina Museum of Art, and the North Carolina State Fair Grounds.  Not to mention, our favorite North Carolina region has more than 200 parks and many town squares equipped for all-ages fun. There's something for everyone inside the Triangle.
Mark your calendars for these local events this May!
Durham Events
There's always something going on in the Bull City. Last month, TASTE 2017 brought North Carolina's best food, chefs, and beer and spirits to the Triangle. What's on for this month?
Northgate Jams
Each week on Wednesday evening from 6PM – 9PM, Northgate Mall hosts jam sessions with diverse music to please all listeners. You'll find blues, jazz, old time, and country artists hitting the stage. Are you a musician? You can join in the fun! The regularly updated facebook page for Northgate Jams updates regularly, so you can find weekly details there in real time.
Chicago at the Durham Performing Arts Center
Snag tickets to catch the number 1 longest running American musical in Broadway history! This month, from May 12-14 Chicago comes to DPAC. There are five different showings to suit
anyone's calendar, with one show on Friday and two on Saturday and Sunday.
Triangle Rising Stars
The National High School Musical Theater Awards, or the "Jimmy Awards" were established in 2009. Each year, high school musical theater students from Central and Eastern North Carolina perform and compete to represent the Triangle in New York City for the national finals. Catch this live showcase and awards show, Triangle Rising Stars, at the Durham Performing Arts Center on May 16 at 7 PM.
Chapel Hill Events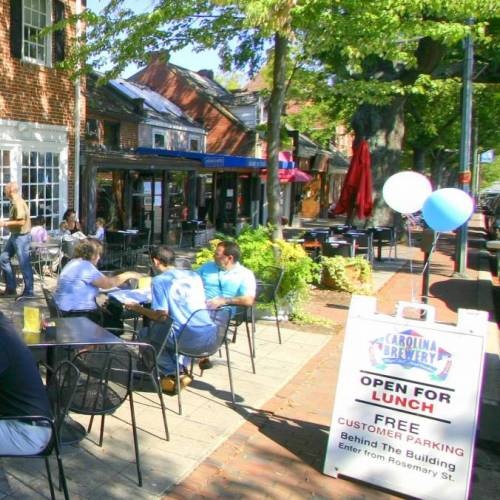 This charming town has been named the Most Livable City in the United States and the "Southern Part of Heaven". Relaxed and casual, Chapel Hill regularly hosts low-key events and family-friendly seasonal series. Check out these local events, and be prepared to pencil them into your calendars.
Live and Local
Each Friday night from 6PM – 9PM artists, musicians, and entertainers make their way to Chapel Hill. This series of free music and art shows at the Plaza on 140 West Franklin Street already under way, so it's time to catch a show before they end! This Friday, Live and Local presents: Bluegrass and Bike Week to celebrate Cinco de Mayo.
Movies Under the Stars
In coordination with Chapel Hill Downtown Partnership, the Town of Chapel Hill presents Movies Under the Stars. Enjoy free popcorn, telescope demos, and other activities while enjoying sports-themed movies all summer long. Kickoff for this free series will be May 20th, hosted at Boshamer Stadium at UNC. What's exciting is that the kickoff event will be held 30 minutes after the end of the last UNC baseball game of the year, at 5:30 PM.  Typically, these events will be held at the Wallace Plaza on Thursday nights. Need to find parking downtown? We've got you covered.
Gala Brunch at the Moorefields
The history of the Moorefields is rich; the historic home was built in 1785 by a Revolutionary military leader. This leader happens to be the founder of the University of North Carolina at Chapel Hill, too! Alfred Moore also served on the United States Supreme Court. His home, the Moorefields, is on the National Register of Historic Places, is currently maintained as a wildlife refuge.
Celebrate Chapel Hill history and Alfred Moore on May 7th from 12:00 PM – 3:00 PM at the Annual Elegant Fundraiser. Brunch is provided by LaPlace Restaurant of Hillsborough, and will be accompanied by champagne, wine, and spirits. Enjoy the house tours, grounds tours, and lawn games while listening to music by the JazzTones. You can find tickets here.
Hillsborough Events
This historic, charming, and lively town hosts plenty of outdoor events perfect for spring weekends. Don't miss these exciting river excursions, Mother's Day brunch, and Last Friday's art walks!
Eno River Canoe Trip
The Eno River is a hidden gem, located in Hillsborough but extending to Durham. The environment around the Eno River is home to a host of wildlife, trails, and gardens that you can tour or visit for educational activities. Each month, Frog Holly and Eno River Association host canoe tours of segments of the Eno River. Join them on May 6th for a 3-hour canoe trip that explores the section of the Eno River running through Hillsborough.
Mother's Day Brunch
This year on May 14th celebrate Mother's Day with the 2nd Annual Mother's Day Brunch at The Cloth Mill at Eno River. Complete with a brunch buffet from the local Beau Catering, this decadent meal will help you celebrate the ladies in your life. You can check out the delicious menus here, and make reservations here.
Last Fridays
Leave it to this unique and artistic town to host a free concert and art series (much like Live and Local) on the last Friday of each month. This event is on May 26th, from 6:30 PM – 9:30 PM. Wander along the old courthouse lawn and take in the sights of art galleries, open shops, museums, historic sites, and local restaurants as they keep their doors open for Last Fridays. Bringing the kids out for the evening? Stop by the South Lawn where events and workshops for kids will be hosted.
Considering the Triangle?
If you are interested in learning about the neighborhoods surrounding downtown Chapel Hill, Durham, and Hillsborough as well as any other properties in the greater Triangle area, visit us online. There's no shortage of fun, family- friendly events in the area. Call us today at 919-813-6449 or e-mail us at [email protected] for additional information.