Before you invest the time and resources in any renovations or upgrades to your rental property, you want to make sure they'll pay off in the long term. The money you spend should deliver higher rental rates, well-qualified tenants, and lower vacancy and turnover rates.
Make sure you know your market. If all the rental properties in your neighborhood have granite counters and stainless appliances in the kitchen, you'll want to provide those as well. However, you don't want to spend money on things that won't matter to the tenants you're trying to attract. Spend time checking out the competition.
We've got some great ideas for landlord-friendly upgrades that will be good investments for your rental property in Chapel Hill, Durham, Mebane, and the surrounding areas.

Assess Your Curb Appeal and Outdoor Space
First impressions matter. If you want to increase your rental income and attract the best renters, make sure your property looks welcoming and inviting. Curb appeal counts. Make sure your single-family rental home has a nice looking lawn and bushes that are trimmed back. Clear away any cobwebs or debris from the front door. For multi-family properties, make sure parking is easy and the building looks good. Check communal spaces and make sure they look clean and well-maintained.
Invest in Fresh Paint
New paint is an important part of renting out a home, whether it's going on the market for the first time or you're preparing it for a new tenant. No one wants to rent a home with scratched, faded, or chipped paint on the walls.
Complete paint jobs look much better than touch-ups. If you have professional painters coming over anyway, it might be a good idea to paint the entire house. This is a worthy upgrade that's cost-effective and always noticed by tenants.
Consider Upgrading to Hard Floors
Most carpet can survive in a rental property for five years. However, you shouldn't keep it for all five of those years, especially if there's a lot of turnover or if your tenants have pets and children.
Instead of cleaning it between tenants over and over again, you could install new carpet. That would be an upgrade. But, we have a better idea. Consider replacing the carpet with hard surface flooring. Tile or hardwoods are great options, but they're also costly. A laminate wood surface or even plank vinyl can make a big difference in how your property shows and will allow you to charge a bit more.
Update Kitchens and Bathrooms
Good tenants care about kitchens. Any renovations that increase space and storage will make a difference in rental amount and retention. Instead of repairing old appliances, replace them with newer, energy-efficient models. Make small changes to hardware around the sinks. New drawer pulls are inexpensive and can provide an immediate boost to the way the kitchen looks.
Bathrooms are important, too. They should look clean and modern. Remove any old, worn, or stained showers and replace flooring that's peeling or scratched. Installing new hardware like faucets and drawer knobs can give the space a huge and value-added makeover.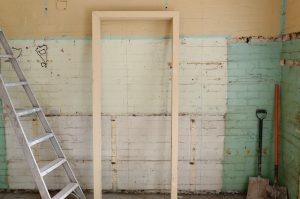 These are just a few of the minor upgrades you can make to increase your rental value and have a more profitable rental experience. For more tips and advice, please contact us at Real Estate Experts. We specialize in Chapel Hill property management and we also serve communities in Durham, Mebane, Hillsborough, North Chatham County, and Terri.