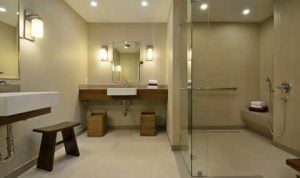 As we grow older, aging in place is by and large the preferred option. With safety concerns, however, it can be dangerous without taking the proper care or making important modifications. Fortunately, with proper help and guidance, making those necessary adjustments can be done quickly and safely to allow seniors to age in place.
Assess Home Risks For Aging in Place
The best way to assess home risks for aging in place is to think through the daily routine as you move from room to room. From a visible house number for first responders to see and lever-style handles to carpeted steps and handheld shower heads in the bathroom, there are tons of minor and major tweaks that can be made to a home. Fine-tune each room to best fit the senior living there.
Consider possible safety modifications throughout each area. For example, adding a grab bar or chair to a shower are budget-friendly ways to make it safer. A slippery shower can also be made safer with a removable shower head, more grout around tiles or a non-slip mat. Consider replacing it altogether with a walk-in or zero-entry shower too. Other changes, like the bed or toilet being too high or low, and bedroom carpeting — which could present more of a tripping hazard if loose — should also be evaluated. Adequate lighting can be quite helpful as well with task lights over tables and night lights along hallways.
Consider Remodeling for Aging in Place
While some adjustments are significantly less expensive, larger remodels can increase the need for a bigger budget. Case in point, a bathroom remodel in Chapel Hill typically costs between $5,916 to $10,000. Such remodels could include turning a bathroom or kitchen into an entirely accessible space. This means the entire bathroom and shower could be roll-in, which would also eliminate the need for stepping into a bathtub-shower. It also means that appliances like the microwave and stove could be easier and safer to reach.
Reflooring to prevent slips, trips, and falls is also useful. Consider widening doorways and hallways if you plan to hire a contractor as well. This will help make it walker or wheelchair accessible, as chairs need significant space to turn around easily. Installing ramps can also help prevent falls for those with difficulty balancing to go up or downstairs to entrance ways.
One final type of change or update to consider is technological help. Using one-touch faucets, smart home security, or even medical alert systems can help keep seniors living independently for quite some time. With easy-to-use apps on smartphones, they can have peace of mind.
Hire Help For Aging in Place
It may be worth hiring a handyman to help with such modification and remodeling projects. While some are more difficult than others, having the proper help is important to ensure the new safety measures actually do their job to prevent injury. There are even quite a few resources to help older adults with the expense of home modification for aging in place as well as with every day needs like financial planning, nutrition counseling, and transportation services that can benefit seniors who want to continue living independently.
When looking for the right person or company to hire for aging in place modifications, look for a certified specialist. These specialists often offer a wider range of services like technological solutions such as lifeline, medication management, and hearing-impaired solutions, as well as general maintenance including yard work and housekeeping; in fact, you can find housekeeping services for as little as $16 per hour, making it a reasonably affordable solution. Such companies are wonderful resources and services for all things aging in place.
So, follow a checklist to assess the home, room by room, for any potential dangers that could inflict injury. Make modifications as needed, and within your budget, to provide a safer home for aging in place. Don't forget to hire help for the projects or with day-to-day tasks as well.
If you are looking for a home and neighborhood where you can age in place contact Real Estate Experts.  Jodi Bakst and Karyn Cho are Senior Real Estate Specialists.   They have the training and experience to help you find the home that will allow you to achieve your long term goals to age in place.